About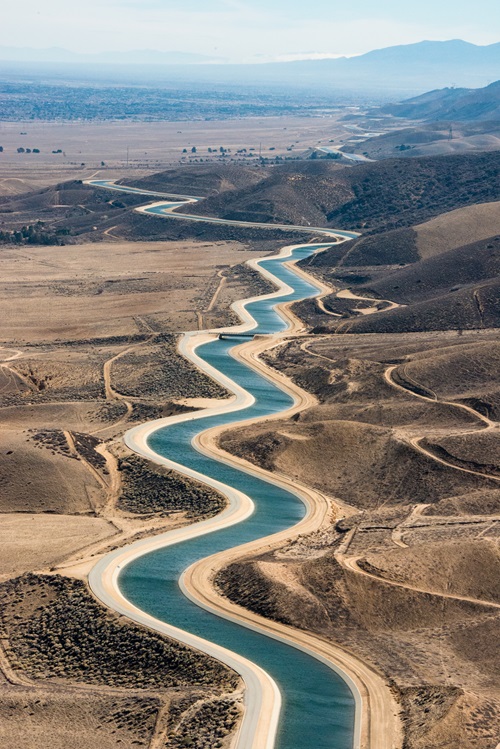 Mission
To sustainably manage the water resources of California, in cooperation with other agencies, to benefit the state's people and protect, restore, and enhance the natural and human environments.
View our organizational chart for a glimpse at our department structure.
Review our Strategic Plan for details on the principles that help guide and focus implementation of our programs and activities.
About
Established in 1956 by the California State Legislature, DWR protects, conserves, develops, and manages much of California's water supply. This includes the State Water Project (SWP), the nation's largest state-built water conveyance program.
The SWP supplies water to an almost 27 million Californians and 750,000 acres of farmland. It spans more than 700 miles from Northern California to Southern California and includes 36 storage facilities, 21 pumping plants, 26 dams, 5 hydroelectric power plants, 4 pumping-generating plants, and approximately 700 miles of canals, tunnels, and pipelines. In addition to supplying high-quality water for California's cities, industries, and farms, the SWP also provides flood control, hydroelectric power generation, recreational opportunities, and ecosystem enhancements to protect fish and wildlife habitat.
Sustainability is our priority. We strive to meet the water needs of today and those of the future, while protecting and enhancing the environment. This balancing act is an enduring challenge and commitment. We work with many federal, State, and local partners to protect and restore the critically important Sacramento-San Joaquin Delta in a way that also ensures long-term water supply reliability for the state.
DWR's major responsibilities include:
Overseeing the statewide process of developing and updating the California Water Plan (Bulletin 160 series)
Planning, designing, constructing, operating, and maintaining the SWP
Protecting and restoring the Sacramento-San Joaquin Delta
Regulating dams, providing flood protection, and assisting in emergency management
Working to preserve the natural environment and wildlife
Educating the public about the importance of water, water conservation, and water safety
Providing grants and technical assistance to service local water needs
Collecting, analyzing, and reporting data in support of our mission to manage and protect California's water resources
Diversity, Equity and Inclusion
The Department of Water Resources is committed to ensuring equity of its programs and services through inclusive outreach and engagement with the state's diverse population. Diversity, equity, and inclusion begins from within, which is why DWR was a proud participant in the 2020-2021 Capitol Collaborative on Race and Equity (CCORE), a racial equity capacity-building program for California State employees. CCORE will help DWR learn, reflect, and develop action items geared towards achieving greater diversity within our organization to better reflect and serve the diversity of California. Through CCORE we will also use and apply racial equity tools throughout our lines of business, better embed racial equity into our Department's culture, and practice intentional inclusion throughout the organization at all levels.
In June 2022, the Department of Water Resources released the Racial Equity Action Plan that sets the foundation for advancing racial equity, diversity, and inclusion in DWR's policy, programs, and practices through several strategies.
Safety
We believe our employees and others have a right to a safe work environment and that all incidents are preventable. Safety is one of our core values and we are committed to our employees, contractors, cooperating agencies, and the visiting public to preventing occupational injuries and illnesses.
The Department will strive to continually improve safety through engagement from all organizational levels and continue to be a leader in employee safety. Active employee participation in the Department safety process is fundamental to improving workplace safety, key to successful implementation of the Department's Safety System, and strongly encouraged.
Resources