The Delta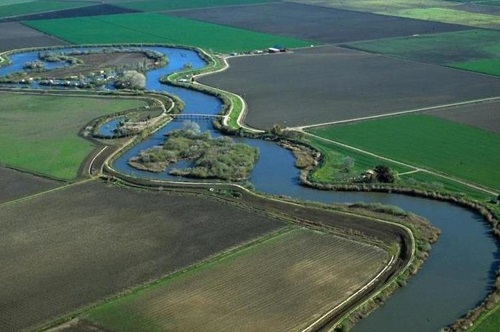 The picturesque Sacramento-San Joaquin Delta is the hub of California's water supply, supplying fresh water to two-thirds of the state's population and millions of acres of farmland. Saltwater from the San Francisco Bay mixes with fresh water from the Sacramento, San Joaquin, and other rivers to create the largest estuary on the West Coast. This estuary provides habitat critical to the survival of many fish and wildlife species. It is also a rich agricultural area, a recreational wonderland, and a complex ecosystem that is home to a dazzling variety of wildlife.
The conveyance of water from north to south relies on the movement of that water through the Delta and its maze of levees and islands and maintaining the right balance of saltwater and fresh water. Careful operations of the State Water Project (SWP) and federal Central Valley Project (CVP) are critical to keeping the balance, especially in the face of new and ongoing water management challenges.
Challenges Facing the Delta
The long-term sustainability of the Delta and our fresh water supply is threatened by floods, rising sea levels, earthquake damage, aging levees, invasive species, and contaminants. The Delta ecosystem is also facing threats that impact native plants, animals, migratory waterfowl, and fish. Iconic Delta smelt, indicators of the estuary's health, are on State and federal agencies' threatened and endangered lists. Equally iconic Chinook salmon and other native fish species also are in trouble as a result of engineered stream flows and disturbances caused by the pumps of the SWP and CVP.