Sustainability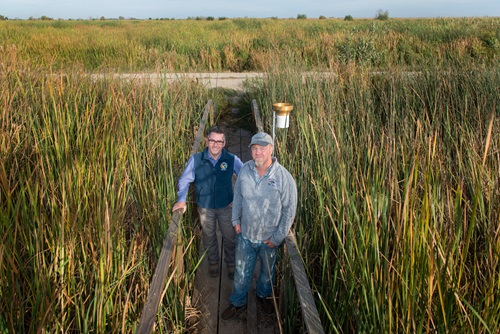 Sustainability is a broad concept that, depending on specific circumstances, means different things to different people. However, all concepts of sustainability share the fundamental theme of assuring enough resources for both current and future generations. Sustainability is about using our resources wisely and adapting to change.
Water resource issues in California are complex and dynamic, and the planning we do as a department must ensure that Californians will enjoy clean water and thriving ecosystems far into the future. Some of the water supply sustainability challenges we face include:
Climate change, which impacts water supply and delivery
Increasing population and demands on finite water resources
Ecosystem fragmentation and decline, which has put many species on threatened or endangered lists, requiring regulations to protect them
Increasing sources of contaminants that impact water quality
Invasive species that disrupt operation of water delivery systems
Ensuring sustainability requires that we address complex issues within our state borders, and beyond. On a regional and local scale, we work to protect watersheds, conserve and protect groundwater basins, and implement energy efficiency in buildings. On a larger scale, we work with our partners to address global warming and climate change, the impacts of non-biodegradable materials, deforestation, endangered species, and desertification.
Sustainability is our Mission
DWR's mission to protect, restore and enhance the natural and human environment embraces sustainability. Sustainability is a fundamental principle in our planning documents, such as the California Water Plan, the Climate Action Plan, and the Water Action plan. Sustainability is in DWR's restoration projects, fish passage improvements, flood plain enhancements, and environmental research projects and studies.

Sustainability in our Operations
DWR has adopted sustainability as one of its core values. To help in its sustainability effort, DWR has a Sustainability Coordinator, a Sustainable Business Operations Unit, a Climate Action Unit, a Water and Energy Efficiency Branch, 33 Recycling and Waste Coordinators, LEED-certified staff, environmental scientists, biologists, engineers, rangeland scientists, hydrologists and other specialists who are integrating sustainability into their daily work.
Some of DWR's Sustainable Operations achievements include:
DWR's 5-year average of GHG emissions for 2011-2015 is 1.3 million metric tons of carbon dioxide emissions (mtCO2e). This number is 52% below 1990 levels and 49% below 2010 levels and the lowest ever recorded by DWR. DWR is well ahead of schedule for achieving its 2020 and 2050 GHG Emissions Reduction Goals. In fact, DWR achieved its target emissions reductions for 2020 in 2015, five years ahead of schedule.
Since 2010, DWR has completed 10 major energy efficiency projects for a one-time cost of $228,081. These projects have an annual savings of $168,394 and reduce DWR's total retail energy use 26 percent. On-site renewable generation is going ahead with DWR proposing 9 locations for 1,115 kilowatts (kW) of solar capacity. The projected renewable energy production is 1,8,21,435 kilowatt hours (kWh) annually or 31 percent of DWR's retail energy use.
DWR has met the water reduction requirements of twenty percent from the 2010 baseline as well as the drought emergency requirement of 25 percent reduction from the 2013 baseline. Overall, DWR has reduced its per capita consumption from 119 gallons to 74 gallons in 2016.