Flood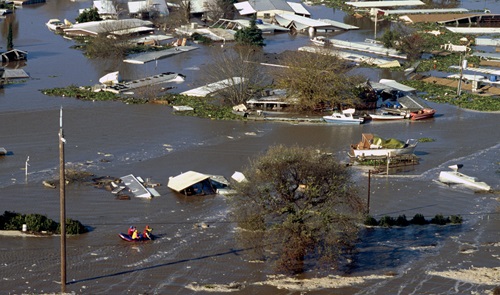 California is prone to potentially devastating impacts of periodic floods. All 58 counties have experienced at least 1 significant flood event in the past 25 years, resulting in loss of life and billions of dollars in damages.

Floods are naturally occurring phenomena in California. They can keep erosion and sedimentation in natural balance, replenish soils, recharge groundwater, and support a variety of riverine and coastal floodplain habitats for some of California's most sensitive species.

But when floods occur where people live and work, the result can be a tragic loss of life and property, including economic impacts from damaged critical infrastructure and vital public facilities, valuable agricultural land taken out of production, and disruptions to California's water supply system. Floods also can put species in danger by inundating and degrading habitat used by plants and animals for survival, which can result in temporary or permanent changes to native ecosystems.
One of the leading risk factors for flooding in California is the fact that so many of our major cities have developed around major rivers, especially in their fertile flood plains. Californians have fought to control the state's 38 major rivers – from the Klamath River in the north to the San Diego River in the south. Flows in these rivers vary dramatically based on meteorological and hydrologic conditions, geology, and human development and encroachment patterns. Climate change predicts even more variability in meteorological and hydrologic conditions with increasingly intense atmospheric rivers, punctuated by increasingly severe droughts.

All regions of California are susceptible to flooding at different times of the year and in different forms ranging from tsunamis in coastal areas to alluvial fan flooding at the base of hillsides, and from fast-moving flash floods to slow rise deep flooding in valleys. Flood risk varies across the state, generally increasing with storm frequency, as well as with development in floodplains.

We work with local and federal agencies to build and maintain a robust flood control system of levees and bypasses.

All Californians should know their flood risk and be prepared. Visit MyHazards, a service provided by the Governor's Office of Emergency Services, and enter your address to know your flood risk. Learn more about how to prepare for a potential flood emergency.

View photos of significant California flood events from 1862-2017.